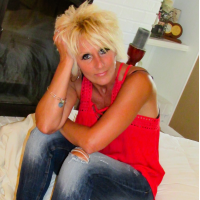 Gina A. Jones
Romantic Suspense
Gina A. Jones is a new author who traded her surgical gloves for the keyboard. Her profession for the last thirty years has been in orthopedics, developing medical implants for the joint replacement system. She believes, that while working under the strict guidelines of a regulated government industry, her writing was a way to unleash and discover her creative side. Her first novel, 'FACES' was the work of a bet between her and her husband. It was self-published but never released. In the beginning, he discouraged her writing of which made her press on to receive an outstanding review from the Kirkus. He has since then been her biggest supporter of pursuing her dream. She loves to write about intense characters, with deep conflicts and an over-the-edge mystery. Putting several genres in her stories, such as romance, erotica, and suspense, create her unique style. A romantic at heart, she strives to bring her world into the lives of those who enjoy her books.
Video
https://youtu.be/TiKCVbkrmxw
"There is nothing permanent except change."